A beautiful haven
Evelyn Villa
A beautiful haven
Evelyn Villa
About Us
A modern villa with a private swimming pool.
Evelyn Villa is located in the unspoiled east side of Rhodes and offers 2 private swimming pools, a normal and a baby one. The nearest popular beach, Stegna, is only a 10 minute drive away. Villa offers a perfect holiday accommodation for up to 10 guests and combines large spaces, elegant design and luxury. Both the interior and exterior spaces are designed to provide guests with everything they need for a great holiday and a memorable stay.
Our philosophy
We have created a beautiful environment for you to spend the most inspiring moments and to have wonderful memories with your loved ones. Our priority is your comfort and your peace of mind.
Welcome to our dreamy haven!
Your Hosts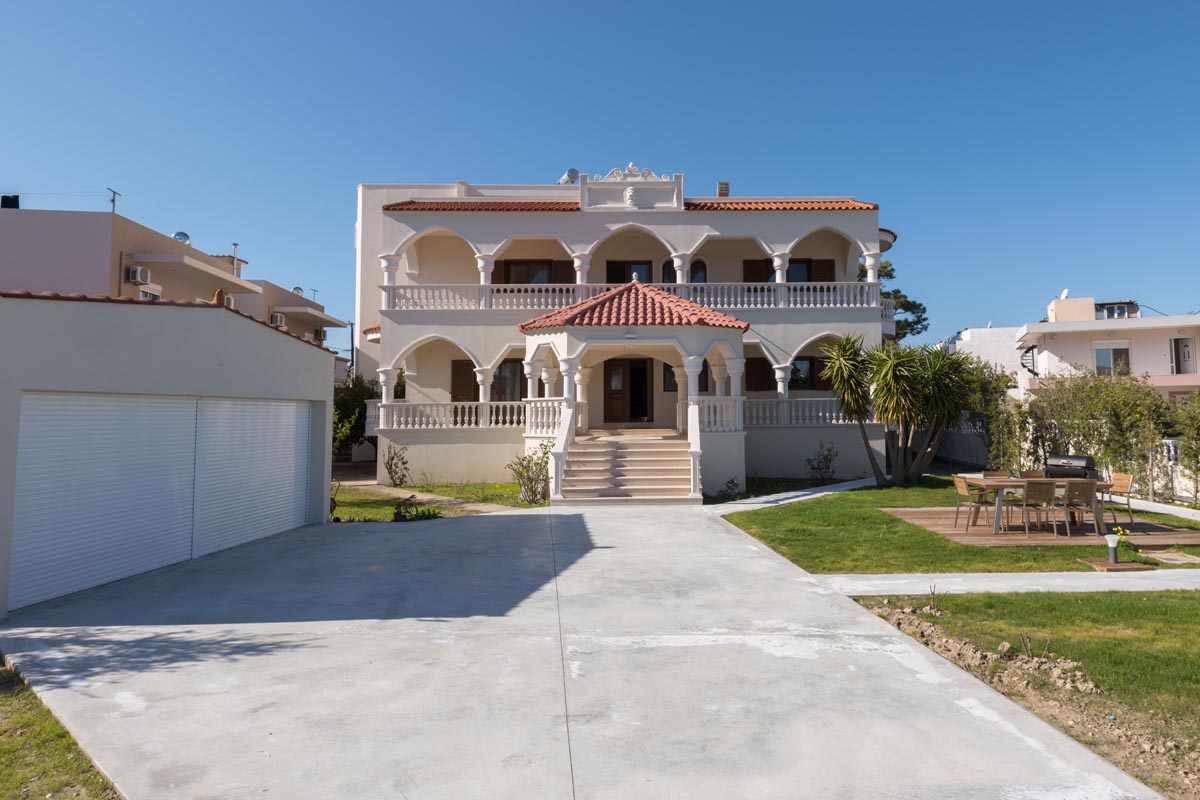 Discover
Property
Villa Evelyn offers 5 spacious bedrooms, three of them with a double bed, and two of them with 2 separate beds. All of the bedrooms are fully air-conditioned and offer a balcony. There's a large living room with comfortable sitting areas along with a desk and an entertainment area with a flat screen TV and a games console. Also, there's a fully equipped modern kitchen for any meal preparation. Villa has 3 bathrooms, one of them with a bathtub and the other one with a shower. The house also offers a range of amenities that guests will find useful during their stay such as free Wi-Fi access.
The Luxury Facilities
The villa offers everything you might need during your stay. The kitchen is equipped with an oven and a deep freezer, for any meal preparation of your choice. Also, guests can enjoy a free Wi-Fi access and screen TVs with satellite channels along with a DVD player. Also there is a game console. Other useful amenities, safety box, the washing machine and the iron along with the ironing board. There's a baby bed and a high chair if they're needed.
Outdoor
A magnificent private swimming pool and an amazing garden.
Outdoors, Evelyn Villa is equally impressive and offers a large well-tended garden with a pool area, featuring a sun deck equipped with parasols and sun beds, creating the perfect setting for a relaxing time under the golden rays of the Greek sun. The house also has spacious verandas both on the ground and first floor with great views of the surrounding area. The villa also offers a fully equipped BBQ with a sitting area in the garden where guests can enjoy the ultimate outdoor dining experience.
Free WiFi
There is a free Wi-Fi access to the internet throughout the property.
Free Parking
Guests can leave their mean of transport to the free parking area.
Laundry Facilities
There's a washing machine and an iron along with an ironing board.
Flat-Screen Tv
There is a Flat Screen TV along with a DVD player to enjoy a relaxing moment with your loved ones.
BBQ Facilities
Outdoors, there are barbeque facilities for our guests to enjoy a pleasant gathering next to the private pool.
Air Conditioning
The property has fully air-conditioned rooms so you can keep refreshed throughout your stay.
Safety Deposit Box
There is a safety deposit box so you can have a relaxed mind throughout your holidays.
Private Swimming Pool
The property offers a dreamy private swimming pool 8x4x1,45.
Check-in
Check-in time is 2pm. We can sometimes arrange an early check-in so please contact us if you will arrive early and we'll do our best, without any promises! We suggest you refer to the section on what to do if you arrive early – there is plenty to keep you entertained!
House Rules
Welcome to Villa Evelyn, our home away from home in the beautiful island of Rhodes. This welcome book is intended to help you get acquainted with the area and our home. We've downloaded our 40 years of area knowledge for you to enjoy! Favorite restaurants, beaches, and more. Along with our area guide you'll also find everything you need to know about our home. From air conditioning to the pool. You will find a bound copy of this guide in the home, which you are welcome to take out with you during your stay so you won't need to print this out.
Cancellation Policy
Guests must offer a 30% down payment after booking, by credit card, non-refundable price and cash on arrival. A credit card guarantee is required to secure your booking. The property reserves the right to pre-authorize credit cards prior to the arrival of the guest. If the reservation is canceled up to 60 days before arrival, the 30% deposit will be the cancellation fee. If canceled later, 100% of the total reservation amount will be charged as a cancellation fee. You can cancel your reservation free of charge only for the period of 24 hours after your reservation, only if the reservation date is 60 days or more before the arrival at the property.
Have a Question?
Talk to the Host
Information
Location & Nearby Attractions
The villa is situated within walking distance from Arhaggelos Centre, a well-developed area with many conveniences available such as shops, restaurants, cafes, pharmacies and car rentals. The nearest exquisite beach is Stegna, in a distance of only a 10 minute drive away from the villa. Nearby you will also find Charaki beach, in a short distance of only an 8 minute drive, with its' quiet atmosphere and clear waters. Also, you should not miss visiting Tsambika beach, one of the most beautiful beaches on the island in a distance of only 10 minutes, with its golden sand and steep water. The island's airport is found in the distance of a 40 minute drive. The villa is also just a 20 minute drive away from a south part of the island, Lindos. Lindos Acropolis is the most impressive archaeological site of Rhodes and has the most idyllic beaches.
Visit Rhodes island in Style
We Have The Way!
Evelyn Villa – Rhodes Dodecanese, Greece
info@evelynvillarhodes.com